AIAA Houston section presents Free Lunch-and-Learn event: Analog missions
– Date: Monday, August 27, 2018
– Time: 11:30 AM to 1:00 PM presentation by CESARE GUARINIELLO, PhD.
– Presentation start time: Noon.
– Place: Tietronix, 1331 Gemini Avenue, Suite 300, Houston Texas 77058.
– Cost: No charge for attending. Membership not required.
– Meal: AIAA Houston Section provides sandwiches (our treat) from Jimmy Johns based on the crowd size using the online registration. Walk-ins are welcome, but advance registration helps us to plan better.
– Registration: (www.aiaahouston.org) or our EventBrite web page. Walk-ins are welcome. Advance registration helps us to plan better. The bigger the audience, the better.
Going to Mars is hard, much harder than anything else we ever tried. Most of the people involved in this field are pushing for an Apollo-style approach, based on step-by-step technology development and testing to approach missions to Mars. However, going to the Moon or even just to Earth orbit is still very expensive. One way to perform effective research towards the exploration of Mars at a lower cost is the use of Mars Analogs on Earth. These are areas that, because of isolated and unusual environment, provide physical and psychological situations similar to those found on Mars. Habitats have been built in these regions that allow for simulated Mars missions. The Mars Desert Research Station (MDRS), near Hanksville, UT, comprises a habitat, a greenhouse, a scientific laboratory, and an astronomical observatory and can host up to 7 people for 2-week simulated missions. Cesare Guariniello served as crew geologist in mission MDRS 186, and used every minute of his 2-week rotation to gather not only scientific data, but an astonishing personal experience. His presentation will touch both these aspects of his mission, with emphasis on the value and limitations of analog missions to support human exploration of Mars.
CESARE GUARINIELLO, PhD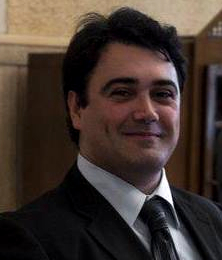 Cesare is a Research Associate in the School of Aeronautics and Astronautics in Purdue University He holds two Master degrees, in Automation and Robotics Engineering and in Astronautical Engineering, from the University of Rome "La Sapienza", and a PhD in Aeronautics and Astronautics from Purdue University. His research ranges from System-of-Systems design and architecture to space applications, cybersecurity, and defense and includes projects with NASA, the US DoD, the US Navy, and MITRE corporation. Cesare recently expanded his research in the field of Earth Sciences, where he is pursuing a Master degree in Planetary Geology. He is a member of various professional societies, including IEEE, AIAA, and INCOSE.
Outside academia, Cesare enjoys a wide variety of activities. After representing Purdue University in various collegiate tournaments, he is now the coach of Purdue Fencing Club. He is a licensed radio amateur, a private pilot, and a certified scuba diver. In 2017, he began participating in simulated missions as analog astronaut.
RSVP
RSVP below or on the Eventbrite page: