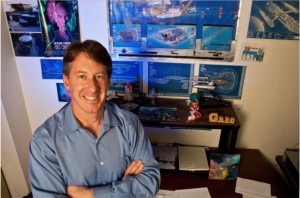 with Greg Meholic, Senior Project Engineer at The Aerospace Corporation
Date: Thursday, February 25, 2016
Location: Mamacita's Mexican Restaurant and Cantina
515 E. NASA Pkwy
Webster, Texas 77598
Time(s):
5:30 P.M: Social
6:00 P.M: Dr. Jayant Ramakrishnan: AIAA Proposed Governance Changes
6:30 P.M: Greg Meholic: Advanced Space Propulsion Concepts for Interstellar Travel
7:45 P.M: Q&A
Attendance is FREE! Attendees purchase their own food & drinks.
RSVP
Please RSVP on the Eventbrite page or below, so that we may get an accurate count.
Synopsis:
Mr. Meholic's presentation begins by examining just a few of the compelling reasons why humans should explore the heavens beyond the bounds of the solar system. Certain terms and issues are defined to clarify the requirements of such daunting journeys. The talk then centers around the key technology required to make such missions possible—propulsion. To start with, a brief discussion is given on the state of the art of in-space chemical propulsion systems to develop a foundation of where engine technology is today. The talk then takes an evolutionary approach by exploring some of the more advanced engine systems intended for long-range solar system exploration, such as nuclear engines, antimatter engines and interstellar ramjets, which define the capability limits of chemical propulsion.
After comparing the predicted performance of these advanced concepts to the requirements for interstellar journeys, the focus will then shift to describe a new paradigm of "propellantless" propulsion schemes that have their basis in modern theoretical physics and cosmology. If found attainable, concepts such as space-time manipulation, faster-than-light travel, wormholes, quantum drives, and so on, may provide the only viable propulsion options to enable reasonable trip times to distant stars. To show that these ideas are not merely the dreams of science-fiction, brief descriptions will be given on the latest, global, experimental efforts to explore the fundamentals behind some of these intriguing concepts. The talk will end with some inspiring conclusions and hopefully instill the belief that mankind will someday move beyond the bounds of our solar neighborhood.
Speaker Biography:
Mr. Meholic currently works as a senior project engineer for The Aerospace Corporation supporting space launch vehicle concept development and advanced propulsion system technology for the U.S. Government. Prior to his current position, he supported upper-stage cryogenic rocket engine launch activities, performance reviews, and hardware design assessments for most of the U.S. space launch systems, contributing to over four dozen successful missions. His work also included defining launch vehicle operational requirements, launch systems and designs, and leading numerous project teams for both NASA and DARPA-funded studies regarding the capabilities and testing of advanced engines.
Greg graduated in 1995, earning both his bachelors and masters degrees in aerospace engineering from Embry-Riddle Aeronautical University. His first professional position was at General Electric Aircraft Engines where he worked in gas turbine performance and preliminary design, component life analysis, mechanical design and advanced concept development. His work in pulse detonation engine (PDE) technology allowed him to obtain four patents on PDE valve concepts and applications. He also gained extensive experience with engine servicing, component production and testing. While at GEAE, Greg also began teaching within the company and eventually developed several classes for new employees on product familiarization. That interest has continued and he now is an adjunct professor at Loyola-Marymount University teaching a course in Propulsion Systems for aircraft and spacecraft.
Although Greg focused his graduate studies on propulsion systems and aerodynamics, he has always been fascinated by the possibility of faster-than-light (FTL) space travel. Ever since his early college days, he has developed many theories of his own that have evolved into a unique model of space-time and the universe bordering on a grand unified theory. Out of these ideas came a new proposal for the definition of gravity and inertia, possible applications of string theory, a suggested source of dark matter and the Trans-Space method of FTL travel, which is different from the traditional "warp drive" that has garnered public familiarity and science-fiction fame. Since 1998, he has published several papers on his work and has delivered many award-winning presentations on his ideas at technical conferences.
Greg is an Associate Technical Fellow of American Institute of Aeronautics and Astronautics (AIAA) and has been a member of the AIAA Nuclear and Future Flight Propulsion Technical Committee for over ten years. He is the session organizer for that committee for the AIAA-sponsored Propulsion and Energy Forums and also chairs related sessions at other technical venues. He has been interviewed on several internet-based technology shows as well as by the famed physicist Dr. Michio Kaku on advanced space propulsion concepts.
Greg is an instrument-rated private pilot and has flown all over the country in his Cessna 172. He and his wife are extremely active with their toddler son and can be found roller-blading, bicycling or hiking in the Los Angeles area.