Friday, May 6, 2016
NASA/JSC Gilruth Center
Map/Directions (PDF)
Conference Schedule
08:00 – Registration
08:15 – Keynote speaker
09:00 – Morning Sessions
12:00 – Luncheon (PDF)
13:30 – Afternoon Sessions
Important Dates to Remember
Monday, February 29, 2016 – Abstracts due to planning committee (contact us sooner if possible)
Friday, March 11, 2016 – Abstract authors notified of abstract acceptance
Thursday, April 28, 2016 – Luncheon Reservations (pay online at time of RSVP)
Friday, May 6, 2016 – Registration (all day, starting at 8:00 AM)
Topics
Space Exploration
Automation and Robotics
Communication and Tracking
EVA
GN&C
In-Space Imaging
Space Operations
Life Sciences and Human Factors
Propulsion and Power Systems
SR&QA
Systems Engineering
Space Commercialization
Structural Mechanics
Avionics
International Space Activities
Astrodynamics
Climate Change
More Information
See the Early Warning Flyer (PDF), Call for Abstracts (PDF), Schedule (PDF), and Program (PDF).
Join us for the Engineers as Educators Workshop (PDF) in the afternoon session!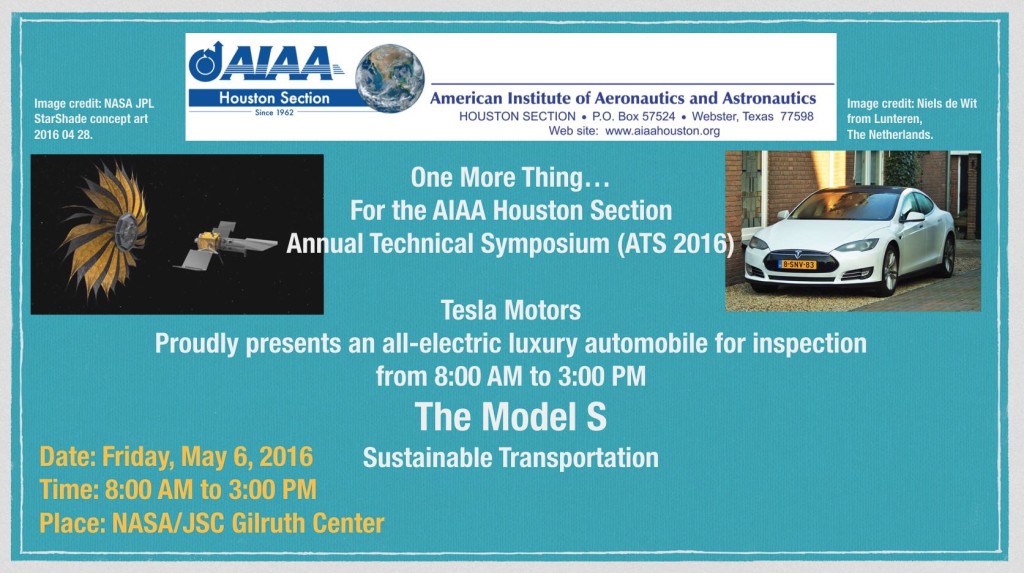 For more information: ATS General Chair Justine Wiles, vicechair-tech2015@aiaahouston.org.
Abstract Submission
Presentations (some of them are linked below after the event of Friday, May 6, 2016):
A-1
A-2

A-2.3 Reducing Edney Type-IV Shock-On-Lip Heating Via Leading Edge Shape Optimization by Patrick E. Rodi, PhD.

A-3
A-4
A-5
B-1 (fill in later)
B-2.1 (fill in later)
B-2.2 (fill in later)
B-2.3 Feasibility of Transferring On-Orbit Components of the International Space Station for Solar System Exploration by Shen Ge and Yvonne Vigue-Rodi. A former AIAA Houston Section Horizons Editor remembered a 2011 lunch-and-learn presentation on a similar subject. Below are links to the one-page newsletter article and the one-page PDF publicity flyer.

Horizons one-page newsletter article, page 17, November / December 2011 issue. See www.aiaahouston.org/newsletter for archived and searchable issues.
Publicity flyer for the 2011 lunch & learn by Mr. Michael Raftery, Boeing ISS Deputy Program Manager.

B-3 (fill in later)
B-4 (fill in later)
B-5 (fill in later)
C-1
C-2
C-3

C-3.1
C-3.2 Internet of Things at NASA by Svetlana Hanson, James McClellan, Dave Kelldorf

C-4
Engineers as Educators (co-hosted with ATS 2016), thanks to Dr. Edgar Bering of the University of Houston.
Citizens' Climate Education. Peter Bryn was kind enough to accept an invitation from Section council member Douglas Yazell to attend ATS 2016 with a CCE table.
Our Annual Technical Symposium (ATS) climate change track therefore continues its ATS tradition which started with ATS 2013. ATS 2016 climate change track presented the CCE table, a presentation by Dr. Daniel Cohan (Rice University atmospheric scientist), and a Tesla Model S available from 8:00 AM to 3:00 PM for inspection by ATS attendees, presented by Tesla Motors Inc. from the Houston Galleria, along with Tesla employees Ajju (Afzal) Hussain and Monika Benavides, along with their manager Derrick Johnson (not in attendance at ATS 2016) who made this possible. Please note that our Section's volunteer Communications Chair Jesi Hoolihan facilitated this appearance by the Tesla Model S, since she works for Tesla in the Houston Galleria. Also our Section Chair Elect Svetlana Hanson owns (with her family) a Tesla Model S, a Chevy Volt, and a Ford C-Max. She volunteered to bring one of those to ATS 2016 once she learned about the Tesla Model S connection to ATS 2016. Dr. Cohan was a presenter for ATS 2014, too, and his charts from that event are available here.
See you next year at ATS 2017!